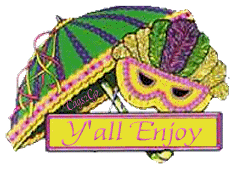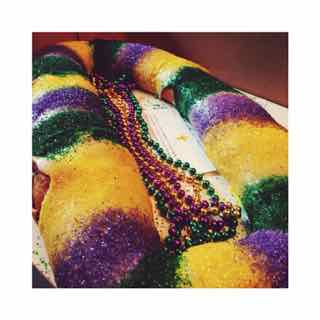 King Cake Recipe
The King Cake is a New Orleans pastry served during Mardi Gras. Traditionally the cake is baked with a small plastic baby hidden inside and the person who gets the slice with the baby in it is believed to have good luck yet has to then bring the King Cake for the following year. The traditional colors of Mardi Gras present on the cake are purple for justice, green for faith and gold for power. The recipe bellow presents a simplified version of the cake which starts with packaged refrigerated cresent rolls. Y'all enjoy and let the good times roll!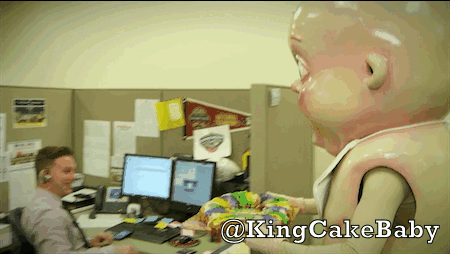 Ingredients:
cake
2 cans (8-ounce) crescent rolls
4 ounces cream cheese
2 tablespoons powdered sugar
1 teaspoon vanilla extract
2 tablespoons butter
1/3 cup light brown sugar
1 tablespoon ground cinnamon

icing and sugars:

1 cup powdered sugar
1 to 2 tablespoon skim milk
1/2 teaspoon vanilla extract
colored sugars (purple, green and gold)

Instructions

Preheat oven 350F. Coat a baking sheet with cooking spray.
To prepare cake, separate crescent rolls at perforations, into 16 slices. Place slices around pan with points in the center. About halfway down from points, press seams together.
Combine cream cheese, powdered sugar and vanilla in a mixing bowl. Using a mixer at medium speed, beat until creamy. Spread cream cheese mixture on dough in the center where seams have been pressed togther.
Combine butter, brown sugar and cinnamon in a small bowl. Stir with a fork until crumbly. Sprinkle over cream cheese. Fold dough points over filling, then fold base of trianlges over points forming a circular roll.
Bake 20 to 25 minutes, until golden brown.
To prepare icing, combine all ingredients except colored sugars in a small bowl. Whisk until icing reaches desired consistency, adding more powdered sugar or milk as needed. Drizzle over cooked cake.
Sprinkle colored sugars in wide horizontal bands over the iced cake.

For more cake recipes check out my friend Lexi Bralver's homepage! Neocities.

Here another link to a "cool site of the day" which describes another southern city with food almost as good as New Orleans - check out their Food & Drink tab! Austin City Links.